Below you'll find all the information on my top 10 reads of 2017.
These are in order of when I read them.
---
Follow Me Back – A.V. Geiger
My Rating – 5 stars
Tessa Hart's world feels very small. Confined to her bedroom with agoraphobia, her one escape is the online fandom for pop sensation Eric Thorn. When he tweets to his fans, it's like his speaking directly to her…
Eric Thorn is frightened by his obsessive fans. They take their devotion way too far. It doesn't help that his PR team keeps posting to encourage their fantasies.
When a fellow pop star is murdered at the hands of a fan, Eric knows he has to do something to shatter his online image fast—like take down one of his top Twitter followers. But Eric's plan to troll @TessaHeartsEric unexpectedly evolves into an online relationship deeper than either could have imagined. And when the two arrange to meet IRL, what should have made for the world's best episode of Catfish takes a deadly turn…
Told through tweets, direct messages, and police transcripts.
---
Mary's the Name – Ross Sayers
My Rating – 5 stars
An eight-year-old girl and her granpa are on the run…
"When me and Granpa watched James Bond films, he told me not to be scared because people didn't have guns like that in Scotland. That must've been why the robbers used hammers."
Orphaned Mary lives with her granpa, but after he is mixed up in a robbery at the bookies where he works, they flee to the Isle of Skye. Gradually, Mary realises that her granpa is involved. And the robbers are coming after him–and their money.
Mary's quirky outlook on life, loss, and her love of all things Elvis, will capture your heart. Full of witty Scots banter, Mary's the Name will have you reaching for the hankies, first with laughter, then with tears.
Heart-warming and heart-breaking, this darkly comic debut is from a fresh voice set to become Scotland's answer to Roddy Doyle.
---
The Girl Before – J.P. Delaney
My Rating – 5 Stars
 Enter the world of One Folgate Street and discover perfection . . . but can you pay the price?
For all fans of The Girl on the Train and Gone Girl comes this spellbinding Hitchcockian thriller which takes psychological suspense to the next level
Jane stumbles on the rental opportunity of a lifetime: the chance to live in a beautiful ultra-minimalist house designed by an enigmatic architect, on condition she abides by a long list of exacting rules. After moving in, she discovers that a previous tenant, Emma, met a mysterious death there – and starts to wonder if her own story will be a re-run of the girl before. As twist after twist catches the reader off guard, Emma's past and Jane's present become inexorably entwined in this tense, page-turning portrayal of psychological obsession.
Following in the footsteps of Gone Girl and The Girl on the Train, The Girl Before is being brought to the big screen. The film is set to be directed by Academy Award-winning director Ron Howard.
---
And Then We Ran – Katy Cannon
My Rating – 5 stars
A road-trip story about following your dreams and embracing the unexpected.
Megan knows what she wants out of life and she intends to get it, whatever her parents say.
Elliott has given up on all his plans for the future – but then Megan bursts into his life with a proposal that could change it forever.
Together they embark on a road trip to escape their hometown and chase their dreams. But life is a journey and not even Megan can control where theirs will lead…
Perfect for fans of Sarah Dessen, Rainbow Rowell and Non Pratt.
---
The Hate U Give – Angie Thomas
My Rating – 5 stars
Sixteen-year-old Starr lives in two worlds: the poor neighbourhood where she was born and raised and her posh high school in the suburbs. The uneasy balance between them is shattered when Starr is the only witness to the fatal shooting of her unarmed best friend, Khalil, by a police officer. Now what Starr says could destroy her community. It could also get her killed.
Inspired by the Black Lives Matter movement, this is a powerful and gripping YA novel about one girl's struggle for justice.
---
The Copper Promise – Jen Williams
My Rating – 4 stars
There are some far-fetched rumours about the caverns beneath the Citadel…
Some say the mages left their most dangerous secrets hidden there; others, that great riches are hidden there; even that gods have been imprisoned in its darkest depths.
For Lord Frith, the caverns hold the key to his vengeance. Against all the odds, he has survived torture and lived to see his home and his family taken from him … and now someone is going to pay. For Wydrin of Crosshaven and her faithful companion, Sir Sebastian Caverson, a quest to the Citadel looks like just another job. There's the promise of gold and adventure. Who knows, they might even have a decent tale or two once they're done.
But sometimes there is truth in rumour.
Soon this reckless trio will be the last line of defence against a hungry, restless terror that wants to tear the world apart. And they're not even getting paid.
---
Spontaneous – Aaron Starmer
My Rating – 4 stars
'Truly the smartest and funniest book about spontaneous combustion you will ever read' JOHN GREEN, #1 bestselling author of THE FAULT IN OUR STARS
A TIME magazine Top 10 YA Book of 2016!
Mara's senior year is proving to be a lot less exciting than she'd hoped, until the day – KABAM! – Katelyn Ogden explodes during third period. Katelyn is the first, but she won't be the last senior to explode without warning or explanation. The body count grows and the search is on for a reason, while the students continue to pop like balloons. But if bombs or terrorists or a government conspiracy aren't to blame, what is?
With the help of her oldest friend, her new boyfriend, a power ballad and a homemade disco ball, will Mara make it to graduation in one piece? It's going to be one hell of a year, where the only test is how to stay alive and where falling in love might be the worst thing you can do . . .
---
The Battlemage – Taran Matharu
My Rating – 5 stars
We rejoin Fletcher and his friends in the ether, where they must undertake a mortally dangerous quest, all the while avoiding capture by enemies and facing foes more terrifying than anything they have yet encountered.
But this is nothing compared to what truly lies ahead for Fletcher, as his nemesis, albino orc Khan, is on a mission to destroy Hominum and everything and everyone that Fletcher loves.
---
The Color Project – Sierra Abrams
My Rating – 5 stars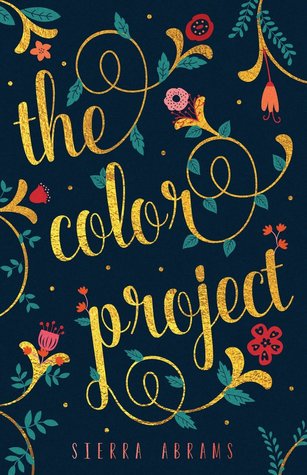 Bernice Aurora Wescott has one thing she doesn't want anyone to know: her name. That is, until Bee meets Levi, the local golden boy who runs a charity organization called The Color Project.
Levi is not at all shy about attempting to guess Bee's real name; his persistence is one of the many reasons why Bee falls for him. But while Levi is everything she never knew she needed, giving up her name would feel like a stamp on forever. And that terrifies her.
When unexpected news of an illness in the family drains Bee's summer of everything bright, she is pushed to the breaking point. Losing herself in The Color Project—a world of weddings, funerals, cancer patients, and hopeful families that the charity funds—is no longer enough. Bee must hold up the weight of her family, but to do that, she needs Levi. She'll have to give up her name and let him in completely or lose the best thing that's ever happened to her.
For fans of Stephanie Perkins and Morgan Matson, THE COLOR PROJECT is a story about the three great loves of life—family, friendship, and romance—and the bonds that withstand tragedy.
---
Wonder – R.J. Palacio
My Rating – 4 stars
I won't describe what I look like. Whatever you're thinking, it's probably worse.
August (Auggie) Pullman was born with a facial deformity that prevented him from going to a mainstream school—until now. He's about to start 5th grade at Beecher Prep, and if you've ever been the new kid then you know how hard that can be. The thing is Auggie's just an ordinary kid, with an extraordinary face. But can he convince his new classmates that he's just like them, despite appearances?
R. J. Palacio has written a spare, warm, uplifting story that will have readers laughing one minute and wiping away tears the next. With wonderfully realistic family interactions (flawed, but loving), lively school scenes, and short chapters, Wonder is accessible to readers of all levels.