Below you'll find all the information on my top 10 reads of 2015.
These are in order of when I read them.
---
Stonebird – Mike Revell
My Rating: 5 stars
When eleven-year-old Liam moves house to be closer to his grandma, he's thrown into an unfamiliar place, with a family that seems to be falling apart.
Liam doesn't remember what Grandma was like before she became ill with dementia. He only knows the witch-like old woman who snaps and snarls and eats her birthday cards. He desperately wants to make everything better, but he can't.
Escaping the house one evening, Liam discovers an old stone gargoyle in a rundown church, and his life changes in impossible ways.
The gargoyle is alive. It moves unseen in the night, acting out Liam's stories. And stories can be dangerous things . . .
But Grandma's illness is getting worse, Liam's mum isn't coping, and his sister is skipping school.
What if the gargoyle is the only thing that can save Liam's family?
---
City in Embers – Stacey Marie Brown
My Rating: 5 stars
Zoey Daniels has been tossed from foster home to foster home, where she grows up fast and tough. When she is placed in her "last-chance" home, she finds a reason to stay and turn her life around: her foster sister, Lexie, who is paralyzed and confined to a wheelchair. Zoey will do anything to keep her safe. After high school, Zoey is hired by a special government agency, the Department of Molecular Genetics (DMG), where she meets the other reason to remain: Daniel, her co-worker. The man she loves.
But there is something unique about Zoey. She can see fae. Because of this, the DMG hires her to work as a Collector: catching, researching, testing, and using the fae to save human lives. The work never registers on her sympathy radar. She was raised to think of fae as beasts that feed on humans and want to destroy them.
When devastation hits Seattle, Zoey's whole world is turned upside down. The electric storm connects her to a ruthless fae, a Wanderer named Ryker, whose dealings expose them to even more trouble and danger. They embark on a journey, running and hiding from both the government and fae, both of which threaten their lives and those they love.
---
The Sin Eater's Daughter – Melinda Salisbury
My Rating: 5 Stars
Sixteen-year-old Twylla lives in the castle. But although she's engaged to the prince, no one speaks to her. No one even looks at her. Because Twylla isn't a member of the court. She's the executioner. As the goddess-embodied, Twylla kills with a single touch. So each week, she's taken to the prison and forced to lay her hands on those accused of treason. No one will ever love her. Who could care for a girl with murder in her veins? Even the prince, whose royal blood supposedly makes him immune to her touch, avoids her.
But then a new guard arrives, a boy whose playful smile belies his deadly swordsmanship. And unlike the others, he's able to look past Twylla's executioner robes and see the girl, not the goddess. Yet a treasonous romance is the least of Twylla's problems. The queen has a plan to destroy her enemies-a plan that requires an unthinkable sacrifice. Will Twylla do what it takes to protect her kingdom? Or will she abandon her duty in favor of a doomed love?
---
Murder Most Unladylike – Robin Stevens
My Rating: 5 stars
Deepdean School for Girls, 1934. When Daisy Wells and Hazel Wong set up their very own deadly secret detective agency, they struggle to find any truly exciting mysteries to investigate. (Unless you count the case of Lavinia's missing tie. Which they don't, really.)
But then Hazel discovers the Science Mistress, Miss Bell, lying dead in the Gym. She thinks it must all have been a terrible accident – but when she and Daisy return five minutes later, the body has disappeared. Now the girls know a murder must have taken place . . . and there's more than one person at Deepdean with a motive.
Now Hazel and Daisy not only have a murder to solve: they have to prove a murder happened in the first place. Determined to get to the bottom of the crime before the killer strikes again (and before the police can get there first, naturally), Hazel and Daisy must hunt for evidence, spy on their suspects and use all the cunning, scheming and intuition they can muster. But will they succeed? And can their friendship stand the test?
---
Orhan's Inheritance – Aline Ohanesian
My Rating: 5 stars
When Orhan's brilliant and eccentric grandfather Kemal—a man who built a dynasty out of making kilim rugs—is found dead, submerged in a vat of dye, Orhan inherits the decades-old business. But Kemal's will raises more questions than it answers. He has left the family estate to a stranger thousands of miles away, an aging woman in an Armenian retirement home in Los Angeles. Her existence and secrecy about her past only deepen the mystery of why Orhan's grandfather willed his home in Turkey to an unknown woman rather than to his own son or grandson.
Left with only Kemal's ancient sketchbook and intent on righting this injustice, Orhan boards a plane to Los Angeles. There he will not only unearth the story that eighty-seven-year-old Seda so closely guards but discover that Seda's past now threatens to unravel his future. Her story, if told, has the power to undo the legacy upon which his family has been built.
Moving back and forth in time, between the last years of the Ottoman Empire and the 1990s, Orhan's Inheritance is a story of passionate love, unspeakable horrors, incredible resilience, and the hidden stories that can haunt a family for generations.
---
Simon vs the Homo Sapiens Agenda – Becky Albertalli
My Rating: 5 stars
Sixteen-year-old and not-so-openly gay Simon Spier prefers to save his drama for the school musical. But when an email falls into the wrong hands, his secret is at risk of being thrust into the spotlight. Now Simon is actually being blackmailed: if he doesn't play wingman for class clown Martin, his sexual identity will become everyone's business. Worse, the privacy of Blue, the pen name of the boy he's been emailing, will be compromised.
With some messy dynamics emerging in his once tight-knit group of friends, and his email correspondence with Blue growing more flirtatious every day, Simon's junior year has suddenly gotten all kinds of complicated. Now, change-averse Simon has to find a way to step out of his comfort zone before he's pushed out—without alienating his friends, compromising himself, or fumbling a shot at happiness with the most confusing, adorable guy he's never met.
---
Mind Games – Teri Terry
My Rating: 5 stars
Luna is a no-hoper with a secret: in a world of illusion, she can see what is real. But can she see the truth before it is too late?
Luna has always been able to exist in virtual and real worlds at the same time, a secret she is warned to keep. She hides her ability by being a Refuser: excluded by choice from the virtual spheres others inhabit. But when she is singled out for testing, she can't hide any longer.
The safest thing to do would be to fail, to go back to a dead-end life, no future. But Luna is starting to hope for something better, and hope is a dangerous thing…
---
Solitaire – Alice Oseman
My Rating: 5 stars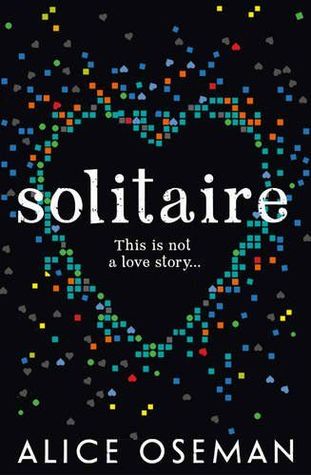 In case you're wondering, this is not a love story.
My name is Tori Spring. I like to sleep and I like to blog. Last year – before all that stuff with Charlie and before I had to face the harsh realities of A-Levels and university applications and the fact that one day I really will have to start talking to people – I had friends. Things were very different, I guess, but that's all over now.
Now there's Solitaire. And Michael Holden.
I don't know what Solitaire are trying to do, and I don't care about Michael Holden.
I really don't.
This incredible debut novel by outstanding young author Alice Oseman is perfect for fans of John Green, Rainbow Rowell and all unflinchingly honest writers.
---
Geek Girl – Holly Smale
My Rating: 5 stars
Harriet Manners knows a lot of things.
She knows that a cat has 32 muscles in each ear, a "jiffy" lasts 1/100th of a second, and the average person laughs 15 times per day. What she isn't quite so sure about is why nobody at school seems to like her very much. So when she's spotted by a top model agent, Harriet grabs the chance to reinvent herself. Even if it means stealing her Best Friend's dream, incurring the wrath of her arch enemy Alexa, and repeatedly humiliating herself in front of the impossibly handsome supermodel Nick. Even if it means lying to the people she loves.
As Harriet veers from one couture disaster to the next with the help of her overly enthusiastic father and her uber-geeky stalker, Toby, she begins to realise that the world of fashion doesn't seem to like her any more than the real world did.
And as her old life starts to fall apart, the question is: will Harriet be able to transform herself before she ruins everything?
---
Summoner: The Novice – Taran Matharu
My Rating: 5 stars
When blacksmith apprentice Fletcher discovers that he has the ability to summon demons from another world, he travels to Adept Military Academy. There the gifted are trained in the art of summoning. Fletcher is put through grueling training as a battlemage to fight in the Hominum Empire's war against orcs. He must tread carefully while training alongside children of powerful nobles. The power hungry, those seeking alliances, and the fear of betrayal surround him. Fletcher finds himself caught in the middle of powerful forces, with only his demon Ignatius for help.
As the pieces on the board maneuver for supremacy, Fletcher must decide where his loyalties lie. The fate of an empire is in his hands. The Novice is the first in a trilogy about Fletcher, his demon Ignatius, and the war against the Orcs.