Below you'll find all the information on my top 10 reads of 2014.
These are in order of when I read them.
---
The Book Thief – Markus Zusak
My Rating: 5 stars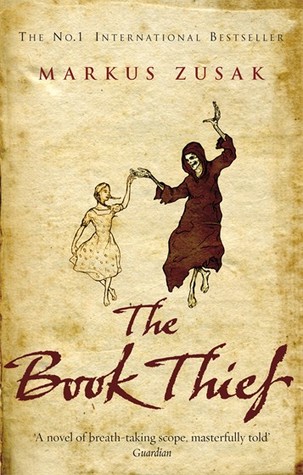 It's just a small story really, about among other things: a girl, some words, an accordionist, some fanatical Germans, a Jewish fist-fighter, and quite a lot of thievery. . . .
Set during World War II in Germany, Markus Zusak's groundbreaking new novel is the story of Liesel Meminger, a foster girl living outside of Munich. Liesel scratches out a meager existence for herself by stealing when she encounters something she can't resist–books. With the help of her accordion-playing foster father, she learns to read and shares her stolen books with her neighbors during bombing raids as well as with the Jewish man hidden in her basement before he is marched to Dachau.
This is an unforgettable story about the ability of books to feed the soul.
---
The Rig – Joe Ducie
My Rating: 5 stars
Fifteen-year-old Will Drake has made a career of breaking out from high-security prisons. His talents have landed him at The Rig, a specialist juvenile holding facility in the middle of the Arctic Ocean. No one can escape from The Rig. No one except for Drake…
After making some escape plans and meeting the first real friends of his life, Drake quickly realises that all is not as it seems on The Rig. The Warden is obsessed with the mysterious Crystal-X – a blue, glowing substance that appears to give superpowers to the teens exposed to it. Drake, Tristan and Irene are banking on a bid for freedom – but can they survive long enough to make it?
Drake is an action hero to rival Jason Bourne and the CHERUB team in this debut author's fantastically imagined sci-­‐fi nightmare.
---
Minty – Christina Banach
My Rating: 5 stars
Fourteen-year old twins Minty and Jess are inseparable. Maybe they bicker now and then, even crave a bit of space once in a while. But they have a connection. Unbreakable. Steadfast. Nothing can tear them apart. Until a family trip to the coast puts their bond in jeopardy. As Minty tries to rescue her dog from drowning she ends up fighting for her life. Will Minty survive? If she doesn't, how will Jess cope without her? Only the stormy sea has the answer.
---
One Piece: East Blue 1-2-3, Vol.1 – Eiichiro Oda
My Rating: 5 stars
Get Ready to Set Sail!
As a child, Monkey D. Luffy dreamed of becoming King of the Pirates. But his life changed when he accidentally ate the Gum-Gum Fruit, an enchanted Devil Fruit that gave him the ability to stretch like rubber. Its only drawback? He'll never be able to swim again–a serious handicap for an aspiring sea dog! Years later, Luffy sets off on his quest to find the "One Piece," said to be the greatest treasure in the world…
The treasure trove of high seas adventures just got bigger with this collection of the first three volumes of One Piece!
---
Fool Moon – Jim Butcher
My Rating: 4 stars
Meet Harry Dresden, Chicago's first (and only) Wizard P.I. Turns out the 'everyday' world is full of strange and magical things – and most of them don't play well with humans. That's where Harry comes in.
Business has been slow lately for Harry Dresden. Okay, business has been dead. Not undead – just dead. You would think Chicago would have a little more action for the only professional wizard in the phone book. But lately, Harry hasn't been able to dredge up any kind of work – magical or mundane. But just when it looks like he can't afford his next meal, a murder comes along that requires his particular brand of supernatural expertise. A brutally mutilated corpse. Strange-looking paw prints. A full moon. Take three guesses. And the first two don't count . . .
Magic – it can get a guy killed.
---
The Blade Itself – Joe Abercrombie
My Rating: 5 stars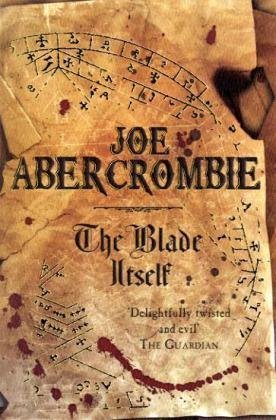 Logen Ninefingers, infamous barbarian, has finally run out of luck. Caught in one feud too many, he's on the verge of becoming a dead barbarian – leaving nothing behind him but bad songs, dead friends, and a lot of happy enemies.
Nobleman Captain Jezal dan Luthar, dashing officer, and paragon of selfishness, has nothing more dangerous in mind than fleecing his friends at cards and dreaming of glory in the fencing circle. But war is brewing, and on the battlefields of the frozen North they fight by altogether bloodier rules.
Inquisitor Glokta, cripple turned torturer, would like nothing better than to see Jezal come home in a box. But then Glokta hates everyone: cutting treason out of the Union one confession at a time leaves little room for friendship. His latest trail of corpses may lead him right to the rotten heart of government, if he can stay alive long enough to follow it.
Enter the wizard, Bayaz. A bald old man with a terrible temper and a pathetic assistant, he could be the First of the Magi, he could be a spectacular fraud, but whatever he is, he's about to make the lives of Logen, Jezal, and Glotka a whole lot more difficult.
Murderous conspiracies rise to the surface, old scores are ready to be settled, and the line between hero and villain is sharp enough to draw blood.
---
The Alloy of Law – Brandon Sanderson
My Rating: 5 stars
The Mistborn trilogy has become a firm favourite with fantasy fans the world over. The imagination that Sanderson brought to the series and his skill at marshalling epic storylines and dramatic action, his ability to create vivid characters made him a natural choice to complete Robert Jordan's epic wheel of time sequence. But with Mistborn, his standalone fantasies and his new series, The Stormlight Archive, Sanderson has shown his bountiful talents in his own fiction. Now he returns to the series that made his name with a new story set years after the events of Hero of Ages.
In a world recovering only slowly from evil, a world where allomancers wield immense power through their ability to unleash the magic bound up in common metals someone who can burn metals that no-one has burned before can tip the balance…
Sanderson has the knack of giving the epic fantasy reader exactly what they want. This ability has thrown him to the forefront of the genre and the dramatic story within The Alloy of Law shows off this skill to its very best.
---
Manga Classics: The Scarlet Letter – Nathanial Hawthorne
My Rating: 5 stars
A powerful tale of forbidden love, shame, and revenge comes to life in Manga Classics: The Scarlet Letter. Faithfully adapted by Crystal Chan from the original novel, this new edition features stunning artwork by SunNeko Lee (Manga Classics: Les Miserables) which will give old and new readers alike a fresh insight into the Nathaniel Hawthorne's tragic saga of Puritan America. .Manga Classics editions feature classic stories, faithfully adapted and illustrated in manga style, and available in both hardcover and softcover editions. Proudly presented by UDON Entertainment and Morpheus Publishing.
---
The Enemy Inside – Vanessa Skye
My Rating: 5 stars
While exploring darkness in others, be careful not to expose your own.
That's what Chicago detective Alicia Raymond discovers when she's assigned to investigate the gruesome torture and murder of a middle-aged trucker with a horrible secret.
Before she can get a lead on one crime, however, the bodies start piling up and Alicia, better known as Berg, finds herself the unexpected target of the very same legal system she has dedicated her life to.
While simultaneously under attack from a formidable past, an enemy that seems to know too much, and a conniving killer, Berg is forced to confront her own darkness: her obsessive need to track down killers at the expense of everything else in her life; her increasing craving for violence just to feel normal; and her potentially devastating feelings for her partner, the charming and handsome Detective Inspector Jay O'Loughlin.
The more Berg works her original case, the more she learns about the sheer viciousness of the trucker's past, and the more she questions if his murderer should even be punished by a justice system that only seems determined to free the guilty. When she also finds herself sympathizing with a sadistic butcher exacting revenge for a decades-old crime, she realizes the most dangerous secret of all might just be her own state of mind.
While Berg struggles with her morality, a killer is determined to recruit her and use her for a devastating end game.
As Berg's carefully constructed life falls apart and she struggles to maintain a grip on reality, she faces a choice: surrender to the evil inside or finally acknowledge the brutal past she would rather bury.
The Enemy Inside is the first in the Edge of Darkness series, which challenges the concept of justice, asks if vengeance sometimes justifies murder, and explores whether you can ever heal from a broken past.
---
Spark Rising – Kate Corcino
My Rating: 5 stars
All that's required to ignite a revolution is a single spark rising.
Two hundred years after the cataclysm that annihilated fossil fuels, Sparks keep electricity flowing through their control of energy-giving Dust. The Council of Nine rebuilt civilization on the backs of Sparks, offering citizens a comfortable life in a relo-city in exchange for power, particularly over the children able to fuel the future. The strongest of the boys are taken as Wards and raised to become elite agents, the Council's enforcers and spies. Strong girls—those who could advance the rapidly-evolving matrilineal power—don't exist. Not according to the Council.
Lena Gracey died as a child, mourned publicly by parents desperate to keep her from the Council. She was raised in hiding until she fled the relo-city for solitary freedom in the desert. Lena lives off the grid, selling her power on the black market.
Agent Alex Reyes was honed into a calculating weapon at the Ward School to do the Council's dirty work. But Alex lives a double life. He's leading the next generation of agents in a secret revolution to destroy those in power from within.
The life Lena built to escape her past ends the day Alex arrives looking for a renegade Spark.
CONTENT WARNING: This book contains occasional violence and profanity, and includes depictions of a determined double agent doing his job and an empowered young woman making coming-of-age decisions. These include sexual interactions. Spark Rising is not intended for readers under the age of 16.