Books Finished
Release Date: January 24th 2019
Goodreads
Rating: 5 Stars
A viciously occult murder.
A curious clue left on the body.
The soundtrack to the murder still playing…
_____________

It is 1981 and Detective Inspector Henry Hobbes is still reeling in the aftermath of the fire and fury of the Brixton riots. The battle lines of society – and the police force – are being redrawn on a daily basis.
With the certainties of his life already sorely tested, a brutal murder will shake his beliefs to their very core once more. The manner of the death and its staged circumstances pose many questions to which there are no obvious answers.
To track the murderer, Hobbes must cross boundaries into a subculture hidden beneath the everyday world he thought he knew. His investigation takes him into a twisted reality, which is both seductive and devastating, and asks him the one question he has been dreading: How far will he go in pursuit of the truth?
Release Date: March 6th 2008
Goodreads
Rating: 4 Stars
The Story of a Childhood and The Story of a Return
The intelligent and outspoken child of radical Marxists, and the great-grandaughter of Iran's last emperor, Satrapi bears witness to a childhood uniquely entwined with the history of her country. Persepolis paints an unforgettable portrait of daily life in Iran and of the bewildering contradictions between home life and public life. This is a beautiful and intimate story full of tragedy and humour – raw, honest and incredibly illuminating.
Books Read
Release Date: February 21st 2019
Goodreads
Currently on page 220 of 435
A journalist must follow the clues, no matter how far that takes her.
Casey Benedict, star reporter at the Post, has infiltrated the lives and exposed the lies of countless politicians and power players. Using her network of contacts, Casey is always on the search for the next big story, no matter how much danger this might place her in, no matter what cost emotionally. 
Tipped off by an overheard conversation at an exclusive London nightclub, she begins to investigate the apparent suicide of a wealthy young British man, whose death has left his fiancée and family devastated. 
Casey's determined hunt for the truth will take her from the glitz of St Tropez to the deserts of Libya and on to the very darkest corners of the human mind.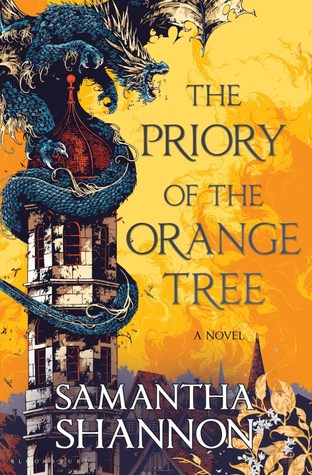 Release Date: February 26th 2019
Goodreads
Currently on page 11 of 804
A world divided.
A queendom without an heir.
An ancient enemy awakens.
The House of Berethnet has ruled Inys for a thousand years. Still unwed, Queen Sabran the Ninth must conceive a daughter to protect her realm from destruction—but assassins are getting closer to her door.
Ead Duryan is an outsider at court. Though she has risen to the position of lady-in-waiting, she is loyal to a hidden society of mages. Ead keeps a watchful eye on Sabran, secretly protecting her with forbidden magic.
Across the dark sea, Tané has trained all her life to be a dragonrider, but is forced to make a choice that could see her life unravel.
Meanwhile, the divided East and West refuse to parley, and forces of chaos are rising from their sleep.
Release Date: June 2nd 2015
Goodreads
Currently on 29%
I thrust my hand toward the sky as my voice begs the Elemental inside me to waken and rise. But it's no use. The curse I've spent my entire life abhorring—the thing I trained so hard to control—no longer exists.
Nym risked her life to save Faelen, her homeland, from a losing war, only to discover that the shapeshifter Draewulf has stolen everything she holds dear. But when the repulsive monster robs Nym of her storm-summoning abilities as well, the beautiful Elemental realizes herwar is only just beginning.
Now powerless to control the elements that once emboldened her, Nym stows away on an airship traveling to the metallic kingdom of Bron. She must stop Draewulf. But the horrors he's brought to life and the secrets of Bron are more than Nym bargained for. Then the disturbing Lord Myles tempts her with new powers that could destroy the monster, and Nym must decide whether she can compromise in the name of good even if it costs her very soul.
As she navigates the stark industrial cityscape of Bron, Nym is faced with an impossible choice: change the future with one slice of a blade…or sacrifice the entire kingdom for the one thing her heart just can't let go.