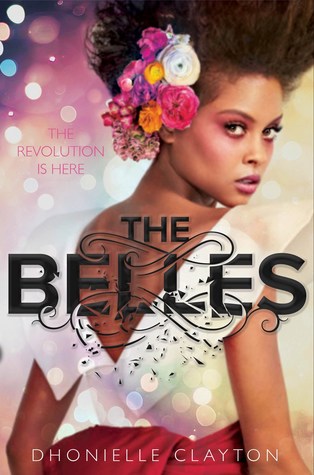 Title: The Belles
Author: Dhonielle Clayton
Published: February 8th 2018
Publisher: Gollancz
Genre: Young Adult, Fantasy
Pages: 448 pages
Source: Paperback ARC from the publisher
Book Blurb (Goodreads):
Camellia Beauregard is a Belle. In the opulent world of Orléans, Belles are revered, for they control Beauty, and Beauty is a commodity coveted above all else. In Orléans, the people are born gray, they are born damned, and only with the help of a Belle and her talents can they transform and be made beautiful.

But it's not enough for Camellia to be just a Belle. She wants to be the favorite—the Belle chosen by the Queen of Orléans to live in the royal palace, to tend to the royal family and their court, to be recognized as the most talented Belle in the land. But once Camellia and her Belle sisters arrive at court, it becomes clear that being the favorite is not everything she always dreamed it would be. Behind the gilded palace walls live dark secrets, and Camellia soon learns that the very essence of her existence is a lie—that her powers are far greater, and could be more dangerous, than she ever imagined. And when the queen asks Camellia to risk her own life and help the ailing princess by using Belle powers in unintended ways, Camellia now faces an impossible decision.

With the future of Orléans and its people at stake, Camellia must decide—save herself and her sisters and the way of the Belles—or resuscitate the princess, risk her own life, and change the ways of her world forever.
My Thoughts
I heard about this book last year and immediately requested a copy because it just sounded so amazing and it was the book that was going to be raved about by everyone – or so the publicist claimed. After reading it for myself, I 100% agree. This is definitely a book that everyone will be raving about.
Immerse yourself in the rich world of Orléans, where everyone is born grey and only the Belles can make people beautiful and colourful again. Camellia Beauregard is one of the latest generation of Belles and her goal in life is to make everyone beautiful. She wants to be the royal favourite but is in a fierce competition against her sisters for the position.
I was fascinated by the Belle lore and the little snippets that were revealed were tantalising and not nearly enough. The Belles are kept separate from the rest of the world and there are heavy penalties for both Belles and others if they break away from their designated roles.
There was a love interest – forbidden, naturally – that kept things interesting and of course there's a royal that is secretly more dangerous than they seem. The sisters have a unique bond that I found both endearing and a little disturbing in the way that they view their roles, themselves and the regular people around them. They had such an insular life that made them think of themselves as almost saviours to these people and the reality is something vastly different to what they all expected.
I was hooked from the start. I found it hard to put this down – even extending a lunch break at work unintentionally to finish a chapter… or five. The intricate web of relationships is tantalising and the hints about what is actually going on keep you gripped.
I had a moment at the end of the book where I put it down after turning the last page and I sighed. It was one of those 'I just finished an amazing book' sighs and I was so disappointed that I didn't have the next book in the series to pick up immediately.
This is a series that is now at the top of my watch list and I'll definitely be pre-ordering book two as soon as I can. I need to know what happens!
Buy Links!
Amazon UK | Amazon US | Barnes & Noble | Blackwell's | Book Depository | Book People | Foyles | Waterstones
---
About the Author
Dhonielle Clayton is the co-author of the Tiny Pretty Things series. She grew up in the Washington, DC suburbs on the Maryland side and spent most of her time under her grandmother's table with a stack of books. A former teacher and middle school librarian, Dhonielle is co-founder of CAKE Literary—a creative development company whipping up decidedly diverse books for a wide array of readers—and COO of the non-profit, We Need Diverse Books. She's got a serious travel bug and loves spending time outside of the USA, but makes her home in New York City, where she can most likely be found hunting for the best slice of pizza.
*Picture and Biography from Goodreads