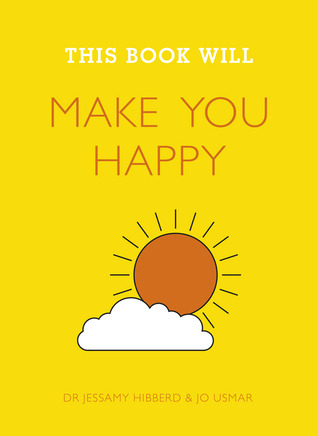 Title: This Book Will Make You Happy
Author: Jessamy Hibberd & Jo Usmar
Published: January 2nd 2014
Publisher: Quercus
Genre: Non-Fiction, Self Help
Pages: 160 pages
Source: Paperback won in a Twitter giveaway
Book Blurb (Goodreads):
We all experience periods of feeling low, frustrated and lacking in energy – but ignoring the problem and struggling on can start to affect all areas of your life. Help is at hand: this concise little book shows you how you can reverse negative thoughts and emotions and make yourself happier and more confident.

Dr Jessamy Hibberd and Jo Usmar draw on the very latest research in cognitive behavioural therapy (CBT) and modern psychology to give you practical, proven techniques and exercises to combat low mood and, more importantly, increase your happiness, making you healthier and more fulfilled.

Chapters include: Positive strategies, Controlling emotions, Rewarding yourself, Combating guilt, Better rest and sleep, Mental exercises, Breaking negative thought patterns, Relaxation techniques.
My Thoughts
I won this book in a giveaway in late 2014 along with three or four others and for some reason I just never got around to actually picking them up. In an effort to read more of my older books, I put it on my TBR for December 2017 and with it being a short book, I flew through it. What's interesting is that I wouldn't say that I needed this book right now, but when it first arrived I probably could've found it useful. I was in the midst of a daily battle with severe social anxiety and this book has some useful tips and tricks that could make a person very mindful and help them to see the things that trigger them, thus helping them to avoid those things more easily.
While being a short book, it's packed with different chapters that walk you through a process to find what brings you joy. I didn't actually try any of the techniques as I was reading through it because I'm actually in a really good place in my life right now and didn't feel like I needed to do them. The action that stood out the most to me was keeping a diary of what you do each day and rating each action on a scale of 1-10. I think this is a super cool technique that would allow people to see exactly what makes them happy and what triggers them into a depressive episode.
If you're curious about ways to improve your overall happiness, I'd say pick this book up. It doesn't take long to read if you don't try the exercises out and can be used in times of emergencies when you need to do something to help bring you back to a place where you're more content.
Buy Links!
Amazon UK | Amazon US | Barnes & Noble | Blackwell's | Book Depository | Book People | Foyles | Waterstones
---
About the Authors
*Picture from Goodreads
No Picture or Biography for Jessamy Hibberd