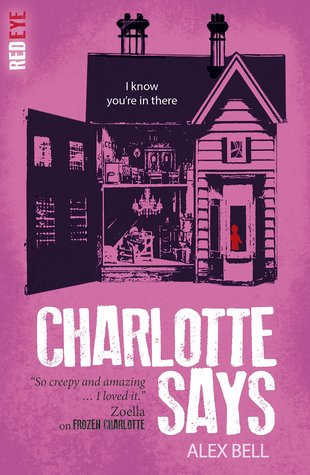 Title:  Charlotte Says
Author:  Alex Bell
Published:  September 7th 2017
Publisher: Stripes Publishing
Genre:  Young Adult, Horror
Source: Paperback from the publisher
Book Blurb  (Goodreads):
The much-anticipated prequel to the bestselling FROZEN CHARLOTTE, a Zoella Book Club title in Autumn 2016.
Following the death of her mother in a terrible fire, Jemima flees to the remote Isle of Skye, to take up a job at a school for girls. There she finds herself tormented by the mystery of what really happened that night.
Then Jemima receives a box of Frozen Charlotte dolls from a mystery sender and she begins to remember – a séance with the dolls, a violent argument with her step-father and the inferno that destroyed their home. And when it seems that the dolls are triggering a series of accidents at the school, Jemima realizes she must stop the demonic spirits possessing the dolls – whatever it takes.
My Thoughts
I was really excited to read this book as I really enjoyed Frozen Charlotte, which this book is a prequel to. I wanted to know more about how the dolls came to be what they were and do what they did. I'm still a wimp when it comes to reading horror related books so you know I read this book in the middle of the day and quit the minute it got dark out. Nope, no nightmares for me.
So, this time around we're following Jemima as she takes up the post of teaching at an all girl's boarding school. While the headmistress is a bit of a she-devil, Jemima is determined to stick it out. After all, she has nowhere else to go.
There's frequent flashbacks to what happened that led to her being in the position she's in. Mysterious events with her mother, her stepfather and the dolls. After all, they are the stars of the book. I wasn't particularly enamoured with any of the characters themselves, if I'm being honest. I found it hard to really get behind Jemima.
The flashbacks  were a bit more interesting for me than the present day things – mostly because it's very much a slow build compared to how quickly things go in the flashbacks. Seeing exactly what led to the creation of the dolls and why they connected so much with Jemima was super interesting. In comparison, having already read Frozen Charlotte, the present day events with the dolls was too similar to Frozen Charlotte in that it didn't really feel any different.
I didn't feel that this one was as scary as the first book. Perhaps because I'd already read Frozen Charlotte, I knew more of what to expect and it didn't creep me out as much. Perhaps because I was learning the origin of the dolls more than just seeing them wreak havoc.
One thing that I will say as a warning for this book: A cat does get hurt. If, like me, this is something that you do or would find difficult to read, I'd perhaps recommend avoiding this book. I had an inkling that it would happen as I read the beginning so I managed to prepare myself for the worst but it was still very unpleasant and I did have to put the book down for a while before picking it up again.
All in all, another excellent addition to the Red Eye series from Stripes and it was cool to jump back into the world of creepy possessed dolls. Just the kind of book you want to read at this time of year for sure.
Buy Links!
Amazon UK | Amazon US | Barnes & Noble | Blackwell's | Book Depository | Book People | Foyles | Waterstones
---
About the Author
Alex Bell was born in 1986. She always wanted to be a writer but had several different back-up plans to ensure she didn't end up in the poor house first. For some years these ranged from dolphin trainer to animal shelter vet but then, at fifteen, she had an epiphany involving John and Robert Kennedy and decided to become a lawyer instead.
To that end she eagerly started a Law Degree only to find it so boring that she was at a very real risk of going completely insane. To mitigate this she started writing again. The second book got her an agent with Carolyn Whitaker of London Independent Books but, unfortunately, not a publisher. The third book, written during her first summer holidays off from university, found a home with Gollancz. The Ninth Circle came out in April 2008 with possibly the most beautiful cover ever created (matched only by her second book, Jasmyn).
Not one to learn from past experience, Alex started the Legal Practice Course in London. There she met some great people and had a lot of fun messing about during lessons that were clearly meant to be extremely solemn affairs. Thankfully, she dropped out just before the point where all students must submit to the personality-removing process that is a compulsory part of being an esteemed member of the legal profession.
Now she happily dwells in an entirely make-believe world of blood, death, madness, murder and mayhem. The doctors have advised that it is best not to disturb her, for she appears to be happy there.
The only other thing to add is that Alex Bell is an immensely – immensely – talented young writer, blah, blah, blah. The books are great, blah, blah. Everyone should totally go out and buy them and stuff.
*Picture and Biography from Goodreads