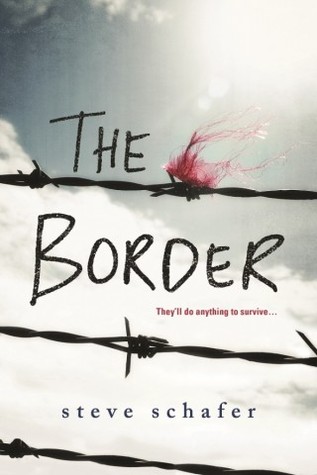 Title: The Border
Author: Steve Schafer
Published: September 5th 2017
Publisher: Sourcebooks Fire
Genre: Young Adult, Thriller, Action
Length: 364 pages
Source: NetGalley eARC
Book Blurb (via Goodreads):
One moment changed their lives forever.

A band plays, glasses clink, and four teens sneak into the Mexican desert, the hum of celebration receding behind them.

Crack. Crack. Crack.

Not fireworks―gunshots. The music stops. And Pato, Arbo, Marcos, and Gladys are powerless as the lives they once knew are taken from them.

Then they are seen by the gunmen. They run. Except they have nowhere to go. The narcos responsible for their families' murders have put out a reward for the teens' capture. Staying in Mexico is certain death, but attempting to cross the border through an unforgiving desert may be as deadly as the secrets they are trying to escape…
My Thoughts
With all the focus lately in America on illegal immigrants and the impact for and against them entering the US, I found the premise of this book especially pulling as it digs into a side of the story that most every day people will never need to think about. What if the only option for you is to leave the life you've known your entire life because your family has been wiped out in a second and you're next? What if you have to cross a grueling desert in the hopes of maybe surviving to see the other side and start a new life? These are horrible questions that no one should have to think about, but so many unfortunately do.
Following four teenagers in the aftermath of a massacre in their family home's backyard during a Quinceañera celebration, The Border shows the harsh reality that many people who live on the Mexico/US border face. Gang violence leads the teens to leave their home and enter the unknown of the desert towards America. With a little help from a recluse, they leave with as much hope as they can – which isn't much.
I found this a really difficult book to read. It's harrowing to read about people in these situations when you're so very far removed from them. I'm lucky to be in a position where events like this are the last thing I would expect to happen near me. That's why I think it's so important for us to educate ourselves with books like this. Open our eyes to what goes on in the world outside of our own doorsteps.
I will admit that I didn't fully connect with the group that much. I think it had to do with the pacing. There wasn't much time to get to know them before they were thrown on their journey. They were boiled down to the cowardly, the muscular, the pudgy, and the girl. They seemed locked into these little categories for most of the story, too.
One issue I had was the mystery. At the very beginning there is a hint that things are going to change, one of the dads has a surprise for his son that we never find out and it frustrated me. I get that this was probably the point, but it bothered me throughout the entire book. I also wasn't a fan of the end. It didn't give me the closed ending that I was hoping for. There's so many questions left unanswered that I felt a little cheated at the end.
Having said all that, I did enjoy this read. It showed me something new, taught me something new, opened my eyes a little wider to the world. I appreciated the effort the author went through to make sure that the lives of his characters were as authentic as possible, too. An incredible debut that I would recommend to everyone.
Buy Links!
Amazon UK | Amazon US | Barnes & Noble | Blackwell's | Book Depository
---
About the Author
Steve Schafer has a Masters in International Studies from the Lauder Institute at the University of Pennsylvania and an MBA from Wharton. He grew up in Houston and has since had the privilege to live, work, volunteer, and travel internationally. The bulk of this experience has been in Latin America. His debut novel, The Border, was acquired by Sourcebooks Fire imprint and will be released September 5th, 2017. Steve lives near Philadelphia with his wife and two kids.
*Picture and Biography from Goodreads