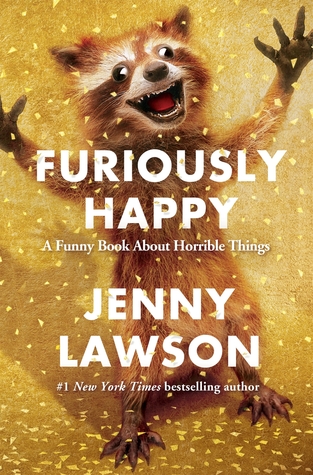 Title: Furiously Happy
Author: Jenny Lawson
Published: September 22nd 2015
Publisher: Picador
Genre: Autobiography, Mental Health, Humour
Length: 329 pages
Source: eARC from NetGalley
Book Blurb (via Goodreads):
For fans of David Sedaris, Tina Fey, and Mindy Kaling-the new book from Jenny Lawson, author of the #1 New York Times bestseller LET'S PRETEND THIS NEVER HAPPENED…

In LET'S PRETEND THIS NEVER HAPPENED, Jenny Lawson baffled readers with stories about growing up the daughter of a taxidermist. In her new book,FURIOUSLY HAPPY, Jenny explores her lifelong battle with mental illness. A hysterical, ridiculous book about crippling depression and anxiety? That sounds like a terrible idea. And terrible ideas are what Jenny does best.

According to Jenny: "Some people might think that being 'furiously happy' is just an excuse to be stupid and irresponsible and invite a herd of kangaroos over to your house without telling your husband first because you suspect he would say no since he's never particularly liked kangaroos. And that would be ridiculous because no one would invite a herd of kangaroos into their house. Two is the limit. I speak from personal experience. My husband says that none is the new limit. I say he should have been clearer about that before I rented all those kangaroos."

"Most of my favorite people are dangerously fucked-up but you'd never guess because we've learned to bare it so honestly that it becomes the new normal. Like John Hughes wrote in The Breakfast Club, 'We're all pretty bizarre. Some of us are just better at hiding it.' Except go back and cross out the word 'hiding.'"

Jenny's first book, LET'S PRETEND THIS NEVER HAPPENED, was ostensibly about family, but deep down it was about celebrating your own weirdness. FURIOUSLY HAPPY is a book about mental illness, but under the surface it's about embracing joy in fantastic and outrageous ways-and who doesn't need a bit more of that?
My Thoughts
It's not often that I'll pick up a non-fiction book but there was a couple of things that attracted me to this one. Firstly, the cover. It's a raccoon that looks crazy, it made me laugh and I instantly wanted to know what it was about. Secondly, the author has the same last name as me – which is something I don't see often with authors, whether it's sharing the last name OR my first name. Finally, it was about mental health so I was really intrigued to see what her personal story was concerning her mental illnesses.
Jenny Lawson is a successful, award-winning blogger with a hilarious outlook on life and rather eclectic tastes. I was laughing after having only read the introduction, so that was a great start! I loved Jenny's no-nonsense, it-is-what-it-is attitude and found her efforts to still be as sociable and functioning as possible to be really brave. I've known days when my social anxiety had me hiding out not wanting to do anything or see anyone, and here was this woman struggling with so many different things and still managing to go outside – it was really inspiring.
This book might not be for everyone. It's definitely got Lawson's unique voice and humour from start to finish and it tells some brutally honest – and sometimes funny – stories about her struggles on a day to day basis. The collection of anecdotes are linked and flow really well from one to the next and the various pictures scattered throughout really help to bring some of the stories to life.
It's a really fast read that had me laughing until I cried at times, particularly the story about her taxidermied raccoons. An excellent read that shows exactly what it's like to struggle with mental illnesses at times, particularly more than one at once! This was a no hold's barred autobiography that was as open as it could be and I admire Jenny for that.
Buy Links!
Non-Affiliate
Amazon UK | Amazon US | Barnes & Noble | The Book People | Waterstones
Affiliate
Book Depository | Foyles
---
About the Author
Known for her sardonic wit and her hysterically skewed outlook on life, Jenny Lawson has made millions of people question their own sanity, as they found themselves admitting that they, too, often wondered why Jesus wasn't classified as a zombie, or laughed to the point of bladder failure when she accidentally forgot that she mailed herself a cobra. Her blog is award-winning and extremely popular.