Hello everyone! I wanted to do something a little different for this post and get some recommendations from other book bloggers. For this post, I've asked some bloggers to recommend titles that will be released during 2015. Check out what they said below!
Sofia (The Reading Fangirl)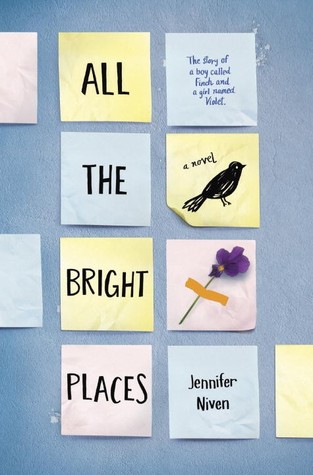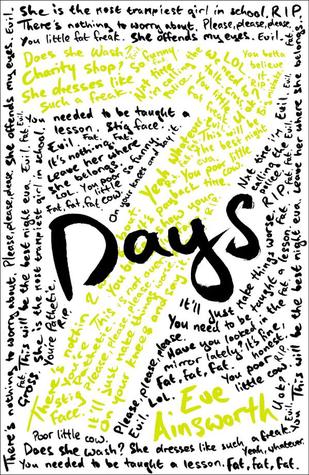 The books I recommend for 2015 are:
All The Bright Places by Jennifer Niven because I'm currently reading this and it's amazing. It really explores the topic of mental health in a lot of detail which I think is necessary for teenagers these days.
Seven Days by Eve Ainsworth because it is a book about bullying, which there are not enough books about these days. It also shows the perspective of the bully as well which is different.
Alice and the Fly by James Rice because it's an amazing book that again looks closer on mental health. It's also incredibly unique and different.
I'll Give You The Sun by Jandy Nelson because it has already had a lot of buzz over in America and it sounds like it's going to be a heartbreaking book that will stay with you forever.
Stonebird by Mike Revell
A stunning debut novel which illuminates a family's disintegration in the wake of the grandmother's Alzheimer's. It refrains from being bleak by featuring a wonderfully realistic and likeable protagonist, Liam, who uses the power of stories to solve the problems around him. Featuring a terrific gargoyle, school bullies, and an inspirational teacher, all with a touch of  pathos, this is one not to be missed.
Dreamsnatcher by Abi Elphinstone
Lightly straddling the realms of adventure and fantasy, Abi Elphinstone's debut novel teases out memories of a canon of beautiful children's literature that has gone before her, as she builds a world of gypsies and dark magic set entirely in woods in a mystery land. An excellent choice for any Pullman fans, the book is full of action whilst simultaneously drawing upon elements of nature to create an unforgettable atmosphere.
The Wild Beyond by Piers Torday
Huge anticipation for the last in the Last Wild trilogy, after being shortlisted for the Waterstones Children's Book Prize for book one, The Last Wild, and winning The Guardian Children's Fiction Prize in 2014 for book two, The Dark Wild. After bringing back the animals from the brink of disaster, what will happen to Kester in the final instalment?
Another Kind of Hurricane by Tamara Ellis Smith
I have high hopes for this debut novel from across the pond, about two boys both suffering huge losses, one in the wake of Hurricane Katrina, the other through a tragic accident, and how they find each other and a way to heal.
The Astounding Broccoli Boy by Frank Cottrell Boyce
Aimed at a slightly younger audience than the other middle grade novels I've chosen, this is a laugh-out-loud grand caper through London at night with a boy who turns green whilst on a school trip. Is he a superhero or just carrying a contagious disease? Add in some girl power, a penguin and the prime minister, and you have an immensely loveable story.
---
Stonebird will be published February 5th 2015
Amazon UK | Amazon US | Book Depository
The Death House by Sarah Pinborough
I'm a huge fan of the very versatile and prolific Sarah Pinborough, so I was chuffed to bits to get hold of an advance review copy of The Death House, which I promptly fell head over heels in love with.
The Death House is narrated by Toby, who's taken from his family after a routine blood test comes back positive for a disease which only affects teens. He's placed in a home morbidly nicknamed the "death house" along with others like him where they are monitored and studied for signs of sickness until their symptoms manifest and they are taken away to the sanatorium to die. Toby's days blur into one until Clara arrives and changes everything.
There are aspects of The Lord of the Flies and The Fault in Our Stars to The Death House, but it's so much more than the sum of its parts. Pinborough's prose is beautifully poetic, and not only is it a fascinating psychological study, but a heartachingly gripping story about growing up, falling in love, life and death, which reminds us how important it is to enjoy the little things while we can. I'm guilty of rolling my eyes slightly at people who say things like "if you only read one book this year, make it this one!!" when it's still only January, but, well…if you DO only read one book this year, then I heartily recommend The Death House! While it is a YA novel, adult bookworms won't want to miss out on this gem either. You can treat yourself on 26 February, when The Death House will be published by Gollancz.
Planetfall by Emma Newman
I adored Emma's Split Worlds trilogy (fae and feminism in Bath, really it's terrific fun) so I'm incredibly excited to read her next novel – and even more so now I've seen it's an unexpected move from fantasy to science fiction.
Planetfall follows Renata Ghali, who believes in Lee Suh-Mi's vision of another planet, unspoiled and fresh from the destruction humanity has wreaked on our Earth. So much so that she follows him into space. More than 22 years later finds her living with others in a colony established at the base of a mysterious alien structure, where Suh-Mi stays while she works as the colony's 3D printer engineer. Renata keeps a secret from the rest of the colony for him, until one day a young stranger bearing an eerie resemblance to Suh-Mi appears and Ren can no longer hide the truth from the others.
I'm super psyched about Planetfall. Sci-fi does seem to have taken a bit of a back seat to fantasy in the last few years, so it's great to be taken out to the stars again. I'm particularly fascinated by the ideas here and especially love the idea of Ren working as a 3D printer engineer – it all sounds really original and intriguing. And I'm already a big fan of Emma's writing which has never failed to engage me. I'm expecting more complex, relatable characters and an inventively twisty tale to delight bookworms everywhere. Planetfall will be published stateside on 3 November by Ace/Roc, and I expect it will make its way to our side of the pond at around the same time. Keep your eyes peeled!
Asking For It by Louise O'Neill (cover unavailable)
Louise's debut novel Only Ever Yours, a nightmarish dystopian mash-up of The Handmaid's Tale and Mean Girls was definitely my favourite book of 2014 (I witter on about it in more detail here), so I'm ridiculously excited about Asking For It.
Asking For It is the story of beautiful, happy and confident 18-year-old Emma O'Donovan, whose life is turned upside down after she has a bit too much to drink at a party. She wakes up the next morning on the front porch of her house with no memory of the night before or how she got there, only to find explicit photographs of herself all over social media. The book deals with the fallout of Emma's sexual assault and the community which shuns her in favour of the perpetrators, who are its local heroes.
Due out from Quercus on 3 September, Asking For It is aimed at the YA market and will look at the very complex and topical issues around rape culture, consent, victim blaming, female sexuality and the power of social media. I appreciate that some might think this is too young an age range to tackle such dark subjects, but cases such as Steubenville (sadly, not an isolated incident) show that while Asking For It may not be an easy book to read, it promises to be an important and challenging one, especially for teen readers who may encounter similar issues in their own lives. We still have a long way to go in terms of how we deal with and think of sexual assault, and stories like Asking For It may help us get there.
Happy reading everyone and huge big thanks to Heather for having me!
---
The Death House will be published February 26th 2015
Amazon UK | Amazon US | Book Depository
Planetfall will be published November 3rd 2015
Amazon UK | Amazon US | Book Depository
Asking For It will be published September 3rd 2015
No links available yet
---
Chelle Toy (TalesOfYesterday)
There are so many fantastic books coming out this year that picking these 5 has been really tough as I could have gone on forever! I decided to pick releases from UKYA and MG for 2015.
Under My Skin by James Dawson
I am a huge HUGE James Dawson fan!  I love his books, writing style and humour.  I'm really excited for his next fiction release in March this year, Under My Skin, about Sally who decides to get a tattoo of Molly Sue, who then starts to hear voices telling her to do bad things.  Could it be Molly Sue?  As well as being very excited about this book, I have already pre-ordered, the cover is gorgeous and the finished book will have beautiful pink sprayed edges!  I can't wait!
The Dreamsnatcher by Abi Elphinstone
I have been lucky enough to have already read this book and it is as amazing as the beautiful inviting cover!  The Dreamsnatcher is the story of Moll and her wild cat Gryff and we go on an adventure through the forest trying to escape the terrifying clutches of the evil Skull!  Both me and my son LOVED this book.  It is all kinds of special and magical and just a fantastic read.  I will be recommending to everyone!  This book is going to be huge in 2015! (Chelle's review of this book can be found here)
Seven Days by Eve Ainsworth
I am really looking forward to this debut by Eve Ainsworth.  A story that deals with bullying and I hear tells the story from both sides.  I feel this is going to be an important thought provoking read.  The cover is beautiful and eye catching and I am hoping to be reading this in the next couple of weeks.
Arsenic For Tea by Robin Stevens
I have to admit I have not yet read the 1st instalment in this series with Arsenic For Tea being the 2nd, even though it has been on my TBR pile for a few months now.  My son read Murder Most Unladylike and he loved it, so much so that he has asked me to pre-order this 2nd book.  I love a good murder mystery and a book with twists and turns and that will keep me guessing and I have it on good authority that Daisy and Hazel will do just that.
Othergirl by Nicole Burstein
I have picked this book as it looks so much fun!  The cover is bright and intriguing and I am very lucky to already have a copy. Other Girl is about Erica who has superpowers!  I am sold already and cannot wait to read this!
Wow this has been such a tough choice!  There are some great reads for UKYA in 2015 – The Art Of Being Normal by Lisa Williamson, Stonebird by Mike Revell, The Sin Eater's Daughter by Mel Salisbury, Spotlight On Sunny by Keris Stainton to name but a few.  2015 is going to be a great year for UKYA and MG!
---
Under My Skin will be released March 5th 2015
Amazon UK | Amazon US | Book Depository
The Dreamsnatcher will be released February 26th 2015
Amazon UK | Amazon US | Book Depository
Seven Days will be published February 15th 2015
Amazon UK | Amazon US | Book Depository
Arsenic For Tea was published January 29th 2015
Amazon UK | Amazon US | Book Depository
Othergirl will be published on April 2nd 2015
Amazon UK | Amazon US | Book Depository
---
A huge thanks to all the bloggers who gave their recommendations. Hopefully I can turn this into a regular feature here on the blog. As for the books that have been recommended, I know that I've definitely got a few to check out!
What would you recommend for a 2015 release?